What is Benal-Life all about?
At benal-life.com we present a guide that we hope will be useful for visitors and residents. Packed with useful information and amusing insights, we are constantly updating and modifying the general information pages where you will find many useful hints and tips. You can learn enough simple words and phrases in the spanish language to make your visit more enjoyable, perhaps find out about spanish customs, their public holidays & fiestas, what should not be missed. Please take your time and browse everything that we have on offer. We support local bars, excellent independent restaurants, and you can take a look any many of them on these pages.

Just click the navigation links on every page to see a list or click on any of the coloured words to open the link. Maps where you will be able to select an area to home in on and locate your Hotel or Hostel. The golfers amongst you should make sure to check out our extensive revue of the golf courses of andalucia. and if you are looking for a golf break some great deals can be found at . Take a look at our property for sale and property for rent. You may like to ask questions or join in a discussion on our forum. As a result of questions asked in the forum we have introduced some new pages covering travel & transport Information and street markets.
You are the Judge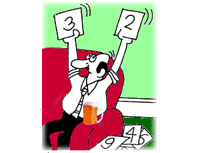 Tell us what you think about any Bar or Restaurant in Benalmadena. Fill in a very simple form to score the bar and add your comments which will be posted on the page relating of that Bar or Restaurant - Click on the Judge and you make the Judgement
*****
Our sister site FREECostaClassifieds.com may be of some use to you and remember to click the general information link for masses of useful stuff and an insight to Spain and the Spanish. You can even book you holiday, hotel, flights, in fact everything for your holidays in our Travel Shop. If you are looking for ideas for something different to to while you are in Andalucia try our Days Out which includes maps and pictures with a full description of the journey. But whatever your reason for visiting, enjoy Benal-life and enjoy what there is on offer in Benalmadena and Arroyo de la Miel