The Spanish Language is Italian spoken with a lisp!
Mañana means Morning - Mañana means Tomorrow but most of all Mañana means "Chill" it ain't gonna happen yet
DRIVERS AND PEDESTRIANS
In Andalucia they plant trees and lamp-posts in the centre of the pavement
Hazard flashers are solely used to enable double parking as once the button has been pushed the vehicle becomes invisible - this certainly seems to be the case as policeman never see them!!
spains motorist's will drive mainly on the right, but sometimes they drive on the left and scooters particularly drive anywhere they damn well please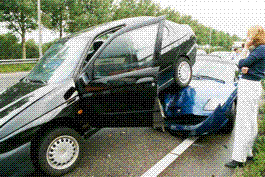 In Andalucia car parking is easy - they are not really fussy about where they park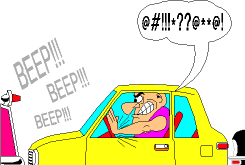 In Andalucia it is essential that when traffic lights change to green, if the vehicle in front has not moved within one quarter of a second, you BLAST your horn.
In Andalucia You are required by law to wear a crash helmet on a scooter or motor-cycle - so be like a local and don't bother!!
NOTE: in recent years this has ceasewd to be rule and is now the exception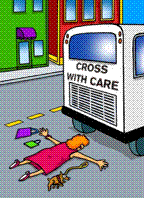 In Andalucia when crossing the road there are many and frequent pedestrian crossings, controlled by traffic lights and symbols letting you know when it is safe to cross - IGNORE THEM THE SAME AS EVERONE ELSE
---
DRINKS
There is nothing SHORT about a short in Spain
The cost of living in Spain is from £1.00 a pint
WELL IT WAS WHEN THIS PAGE WAS FIRST PUBLISHED
A Pint in Spain is half as strong again as in England
---

ADVICE GAINED FROM OUR EXPERIENCE

So you have ignored the last few items and need a Taxi?
TAXI - Tel: 952 441 545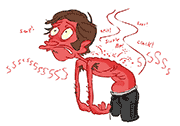 THE SUN IS HOT DRINK LOTS OF WATER OR DEHYDRATE
THE SUN IS HOT WEAR A HAT OR DEHYDRATE
THE SUN IS HOT COVER UP OR DEHYDRATE AND BURN

At certain times of the year the Terral wind blows, which is a westerly breeze that gives the feeling of standing in front of a convection oven with the door open, adding considerably to the overall heat.
And if you chose not to believe that the sun is really that hot
EMERGENCY TELEPHONE 112

When you arrive make one of your first points of call one of the tourist offices and get a free street map

You don't very often hear them say it anymore but they are still "LOOKY LOOKY" men and as long as you are aware that what you are asked to look at is counterfeit and may not work, but you still want to look at what he is offering remember that he will after bartering be prepared to let you have it for around 1/4 to 1/3 of the original asking price. Also you should be aware that it now an offence not only to sell counterfeit goods, but also to buy them.
Much better to send them on their way!

ENGLISH LANGUAGE RADIO STATIONS

TALK RADIO EUROPE - 88.9fm & 91.9rm

GLOBAL - 93.6fm & 96.4FM

RADIO NETWORK - 96fm & 98.3FM

iTALK FM - 97.1fm

TALK RADIO EUROPE - 88.9fm

CENTRAL FM - 98.6fm & 103.8FM

ACE FM - 106.8fm

THE BEAT FM - 106fm

SPECTRUM - 88.9fm

RADIO MIJAS - 107.7fm

RADIO ESTEPONA - 107.2fm

HEART IN SPAIN - 88.5fm & 96.1FM

ENGLISH LANGUAGE NEWSPAPERS

There are several free English language newspapers look out for them in Hotels, Shops and Bars

THE EURO WEEKLY (Thursday)

SUR IN ENGLISH (Friday)

THE OLIVE PRESS (Tuesday - Fortnightly)

THE NEWS (Wednesday)